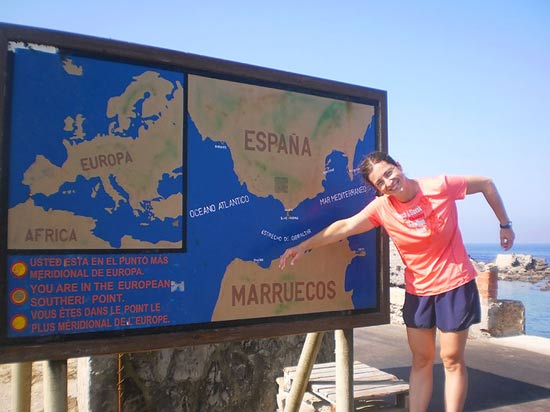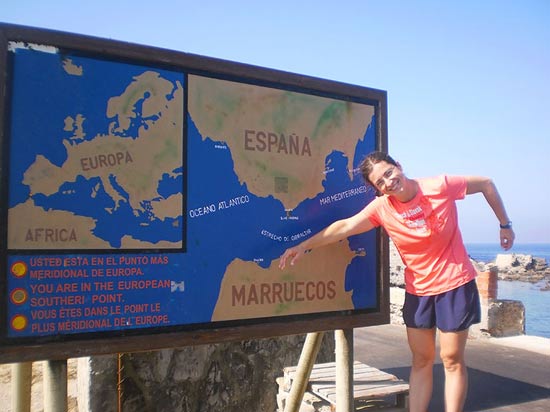 Joining Continents
"Swimming to Africa", i.e. swimming the Strait of Gibraltar from the southernmost tip of Europe (Tarifa, Spain) to Africa (Morocco) – 15-20 km – is not comparable to an English Channel swim, but bridging two continents has a special magic to it. And there are similar challenges: unpredictable weather, days of waiting, currents, fog, huge container ships in the shipping lanes – but nicer marine life. The success rate is higher since the swim is shorter and easier – but you never know exactly what the currents and wind will do on your day, or if you get to swim at all.  (→ See the post about my own Gibraltar Straits swim Oct. 2012)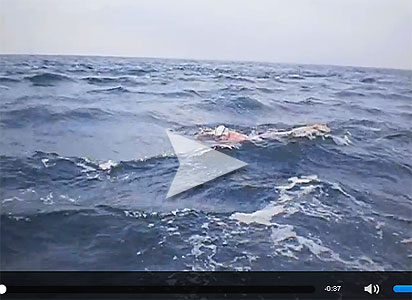 On Monday, Sept. 16th, 2013, Abhejali Bernadova from Zlin, Czech Republic, fastest swimmer in our international English Channel relay 2009, English Channel solo swimmer 2011 and Manhattan Island Finisher 2012, became the 2nd Sri Chinmoy Marathon Team member to conquer the Strait of Gibraltar – in a very good 4 hours 35 minutes. Which made her the 3rd Czech Strait woman to do so – and the fastest of them! Conditions were less than ideal, windforce 3-4 most of the way – the AGNEC certificate says windforce 4 – and on the video the waves and whitecaps of the first hours are quite impressive compared to my own swim in 2012. Luckily everyone had taken seasickness pills – so seasickness only became a problem when they went dolphin watching (again) a few days later. Sunday, when a leftover team from the week before got to swim, was still sunny and calm (the photo at the top was taken on Sunday), but on Monday, on swim day, even though only windforce 2 was predicted, the Straits showed a different face.
Not easy, but very beautiful
Abhejali was still very lucky:
1. She got to swim at all (it is not rare for swimmers to come and not get a shot at all due to the weather).
2. She had an early morning start at 8 a.m, and the current – although unfavourable at the start – was not very strong near Africa. On the way back the pilot measured the current 5 km off Tarifa – and it had become basically unswimmable!
3. Abhejali had great company: not only her helpers and of course the boat pilots, but lots of dolphins! On one video she keeps swimming without looking up for quite a while – because she was looking at the dolphins swimming only a few meters below her. When a huge container boat passed, dolphins were surfing on its big bow waves! Her helpers saw them everywhere. "I had wanted to swim with dolphins," she said, "and it worked!"
In the first hour she only swam 2 km due to the strong currents (almost full moon), but after 2 hours she was told in 20 min. she would be half way – so she was able to pick up speed. One shoulder soon started to hurt from swimming in the waves – which she had not been able to practice in training – and pain killers did not help very much.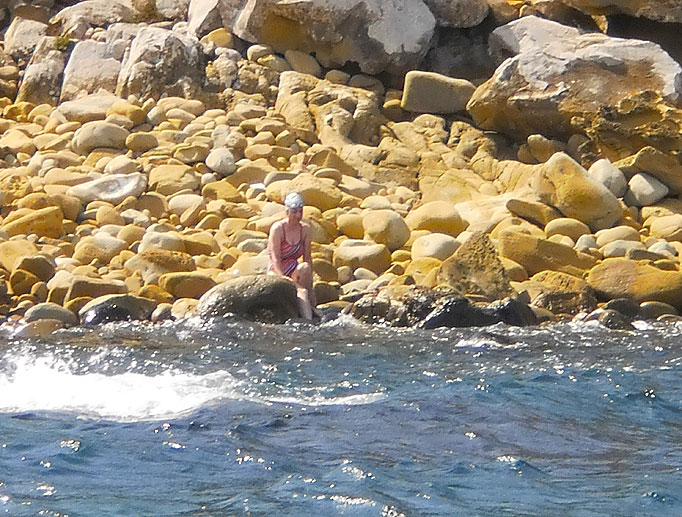 "It was not easy, but it was very beautiful," Abhejali said after her swim.
What will be next?, I asked her. Catalina, Cook Straits – or any other of the 7 Oceans swims? Maybe later, she says. She would love to swim from Europe to Asia (the Bosporus – an even shorter swim). "But now I'd also love to go back to running a little", she says – a 24 hour and 100 km champion in her country, and lover and long time co-organizer of the World Harmony/Peace Run.
→ Videos of Abhejali swimming the Strait of Gibraltar, Sept. 16, 2013
→ Link to ACNEG – the organisation for Strait of Gibraltar swims (swim list is not up to date on the website!)
→ Abhejali and myself at the IMSHOF ceremony in Long Beach, California, September 2012