++ We did it! ++ For the long story see → blog posts!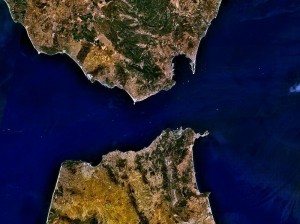 Booked for the 2nd week of October 2012 with ACNEG to swim the Gibraltar Straits from Tarifa (Spain), the southernmost tip of Europe, to Africa/Marocco (You may actually land in Ceuta, a Spanish enclave, i.e. in Spain again!). I hesitated for a week after registration opened, and by then only October was left – when the water temp will be around 19°C (warmer than in April/May for sure), but the windy season is already starting. ACNEG is only taking 2 bookings per week, because only one boat is allowed to go out with a swimmer (or a team of swimmers!) per day, and you are lucky to find 2 swimmable days in one week anyway.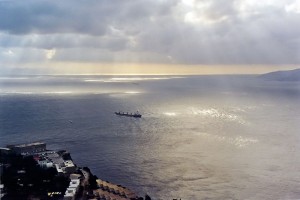 The Gibraltar Straits are only 15 km across – which makes them much "easier" and faster than the English Channel – but the currents can be strong at times, and I am just about the speed to have a realistic chance to get across, if conditions permit. There have been faster swimmers that were not able to make it through the currents, which can be quite unpredictable and, combined with the wind, may end up carring you out east into the Meditarranean Sea. Also dense fog can appear quickly and end a swim for safety reasons – and like with the Channel, you may not even get a chance to swim if the weather Gods do not cooperate. Of course I am concentrating on the positive, often spontaneously visualising in my training and meditation standing up on the rocks on the other side. And my new training mantra, which really gives me joy, is "Swimming to Africa".
Traffic is very busy in the narrower Straits, and tankers and boats don`t watch out for the swimmers like in the EC, or they may not have enough room to navigate around the swimmer – so it may even happen that a swimmer has to be taken out of the water for safety reasons but may still continue to swim after the danger is gone.
It is fascinating how much marine life can be encountered in the Straits – from dolphins to whales and even orcas. The sad thing is, whales are affected a lot by the heavy traffic, getting injured and even killed by the ships and ferries. And pregnant red tuna (or blue fin tuna) are stilled killed large scale when entering the Meditarranian to spawn etc.
We definitely want to go out on a whale-watching boat with Katharina Heyer, an amazing woman from Switzerland, before the swim, maybe to make friends with some whales or dolphins to accompany us on the swim?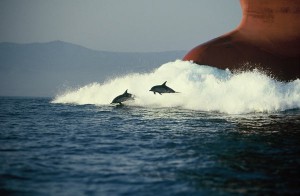 Here is some info on a very touching film about the whales and dolphins in the Straits (kind of sad, too): The last Giants – on DVD unfortunately only available in German on Amazon etc.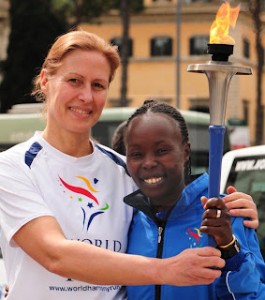 I want to dedicate the swim again to the World Harmony Run and its ideals, bringing the torch or a flag with us on the boat. And to the children of Africa, and in particular to the Tegla Loroupe Peace Foundation and Academy in Kenia, which creates educational opportunities for children displaced or orphaned as a result of conflict and HIV/Aids. Swiss friends have been supporting the school project for years now, and I had the honour of meeting Tegla – a multiple world champion marathon runner – at a World Harmony Run ceremony in Rome in 2008 and even run with her.
---
Other Gibraltar Strait Swim reports and experiences: