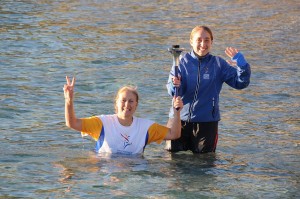 As a child I loved swimming and snorkling in the Adriatic sea in Croatia when we used to go there on holidays with my grandparents. After so many years, it was a very nice experience to spend the New Year's holidays of 2014/15 on the spectacular Croation coast together with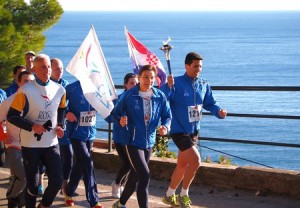 our team, including friends and a number of English Channel girls and boys from literally all over the world – New Zealand, Australia, USA, Canada, Brazil, Guatemala, Europe… Meditation, swimming (outside temps down to below freezing for a few days,  water around 14°C), running along the scenic coast,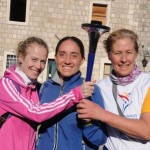 Peace Run activities in Dubrovnik (UNESCO world heritage) and at the Ston Walls as part of local races, a Song of the Souls concert and lots of fun activities like a swim-run, a treasure hunt and some sightseeing made this holiday quite memorable. Apart from a few rainy and quite stormy days we were blessed with lots of sunshine and calm seas. (We were actually unable to land in windy Dubrovnik even after couple of attempts by the pilot – left and right of me people were using their sickness bags, but I felt fine and protected, surprisingly, with a handful of other teammembers on board. So we had to be diverted to Split, which resulted in a special 3 hour bus trip around midnight down along the moonlit coast to our hotel in Orasac.)
The run-swim (it was too cold to start with the swim and run in wet clothes) at the end of our stay was such great fun – people were even allowed to walk in the water just to get as many as possible to participate. The more adventurous and hardened swimmers chose the long course out to the other beach and back. For quite a few it was pure self-transcendence to get into the chilly water – but they ended up loving it!
Here a few more impressions: