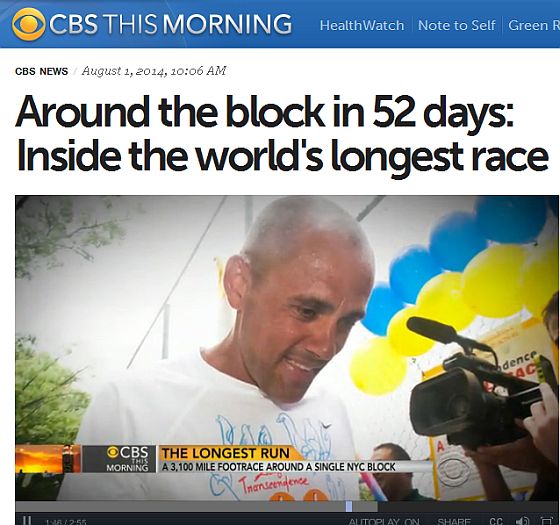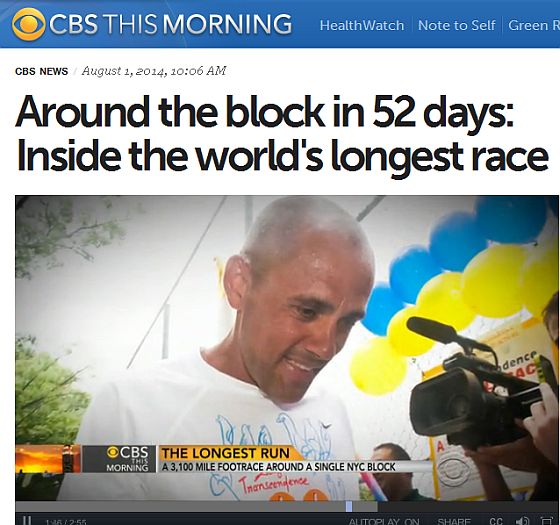 Great coverage for a great bunch of world elite runners on → CBS news
The 18th edition of the annual Self-Transcendence 3,100 Mile Race of New York – called 'The Mount Everest of ultramarathons' by The New York  Times – started on June 15th and will end on August 6. Of the 14 runners, the first ones already finished, in first place Sarvagata Ukrainsky (from Ukraine), who has run the race for the 4th time now, followed by Yuri Trostenyuk in 2nd place in his 2nd 3100 mile race.  Vasu will finish in 3rd place in his 3rd race!  For Pranjal Milovnik in 4th place, it is his 10th edition of the race. And for Stutisheel (Ukraine) in 5th place it will be his 8th finish. (See → result details.)
I am particularly impressed, however, by the 3 girls in the race, Sarah from Australia, Nidhruvi from Vienna, Austria, and Jayasalini from Russia – with their absolutely inspiring performances. Having done one 6-day-race myself in April 2010 I have just a small idea of what the runners have to be going through in terms of physical and mental challenges and sometimes excruciating pains – on the one hand. On the other hand, there are many transformative spiritual experiences and deep inner experiences of satisfaction, peace and even ecstasy – which will permeate the entire being and be absorbed  and felt #even more for weeks and months after the race is finished. For deeper insights into the world of this mind-blowing challenge there are Utpal's great daily posts about the race and its runners, with live interviews, photos and very knowledgeble background and inside information on → www.perfectionjourney.
Main website: www.3100.srichinmoyraces.org/main-3100
My life's only road:
Forward.
My heart's only road:
Inward.
My soul's only road:
Upward.