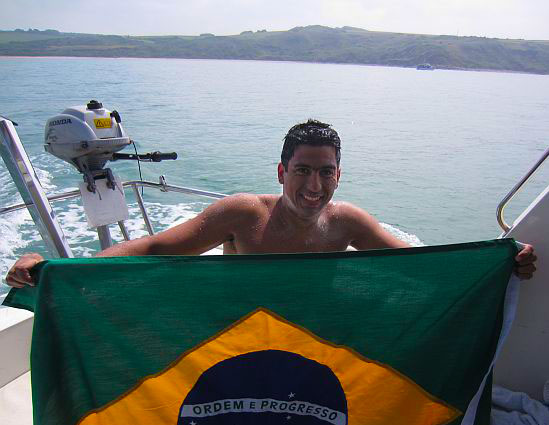 End of July was extremely eventful. I went to England to join an international team for the last part of the "Great British Peace Run" from Cardiff to Ipswich, be part of the inauguration ceremony of a Peace Statue of Sri Chinmoy – the founder of the World Harmony Peace Run and of our Marathon Team –  in Ipswich Chantry Park on July 28th, and to pay a short visit to Dover on the way back to Heidelberg.
From Brazil to Dover, from Dover to France
Just then, on Saturday, July 27th, Adriano Passini (32), an aviation engineer from Sao Paulo, became the first member of the Sri Chinmoy Marathon Team Brazil  to successfully swim the English Channel, in a fantastic time of 11 hours 10 min – the 44th EC swim by a member of the Sri Chinmoy Marathon Team.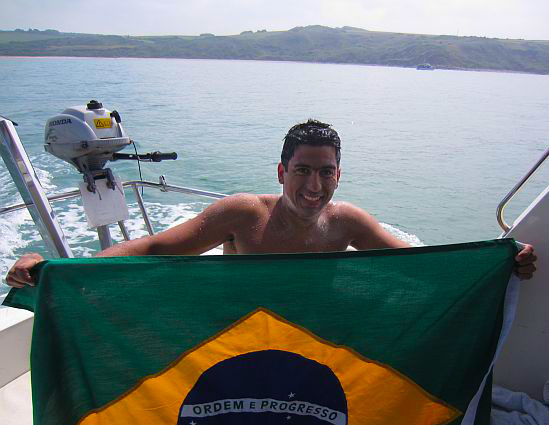 He was supported with tons of experience and lots of selfgiving dedication by Karteek Clarke from Scotland ("Scottish King of the Channel" with 10x EC) and his friend Ashirvad from Brazil, and expertly guided by "Gentleman-pilot" Chris Osmond on Seafarer 11, who in 2011 also safely landed our boys relay team and my friend and teammate Abhejali Bernadova (Czech Republic) on the French side.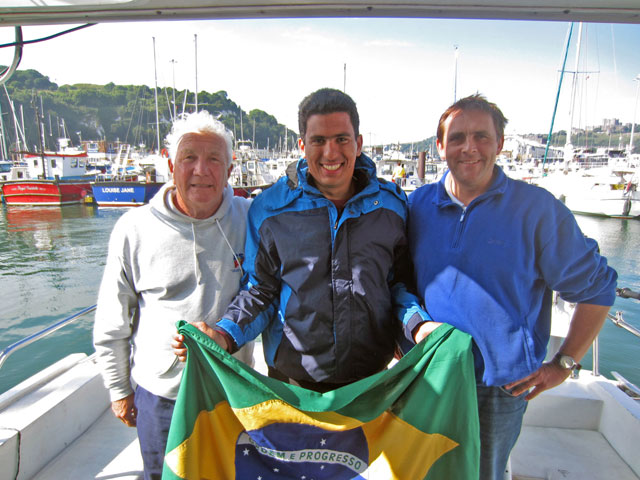 Adriano – a vegetarian – had prepared himself very well for at least 2 years, physically, mentally and spiritually, including meditation – and even concentrated intensely on the exact swim date. And it worked! He had a daylight start and finish, a few hours of heavy rain and fog, but with the sun coming out at the end. He was very focussed and positive throughout the swim. The strong spring tide currents were no problem for him. To stay warm he may have swum extra fast. The water temperature had been a bit of a concern for him, finding no colder water than 19°C in Brazil, but he was wise to come early enough to Dover to get acclimatized in the harbour and not accept an earlier swim offer, and he was totally fine until the glorious finish in bright sunlight.
Here the link to a youtube-video of his Channel swim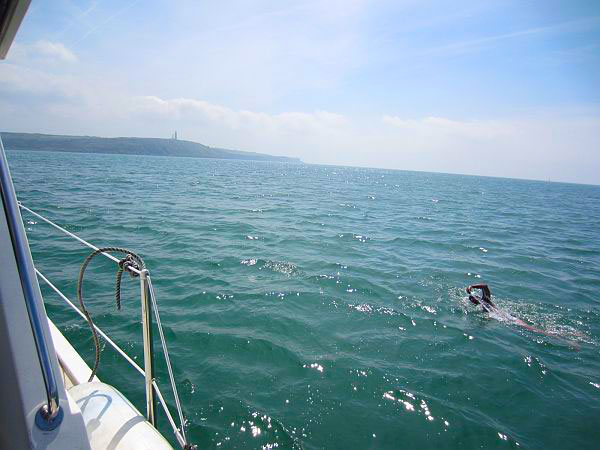 Determination wins the day…
Read more: On his blog 10x EC-veteran Karteek shares a longer report from a helper`s perspective with more info about Adriano`s preparation and the swim itself.
…and sleep overtakes an exhausted helper: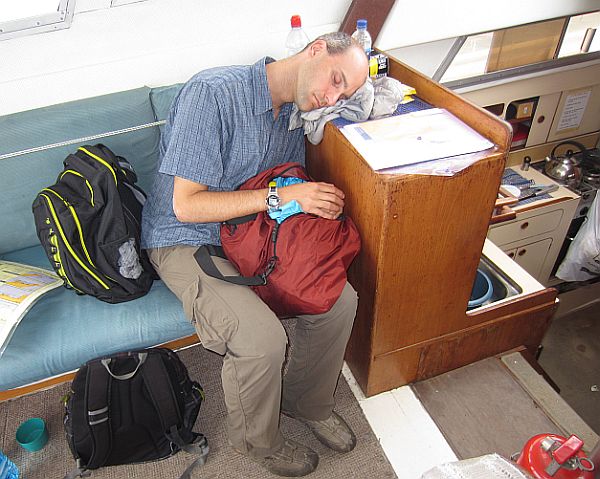 Congratulations banner at Varne Ridge Caravan Park – is there a more inspiring place to stay for a Channel aspirant?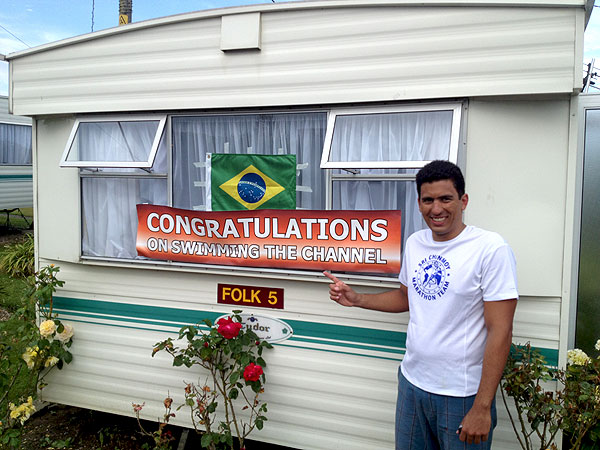 One day later at the Sri Chinmoy Peace Statue ceremony in Ipswich: the Mayor of Ipswich with 4 Channel swimmers (together 14 EC solos and 2 realys):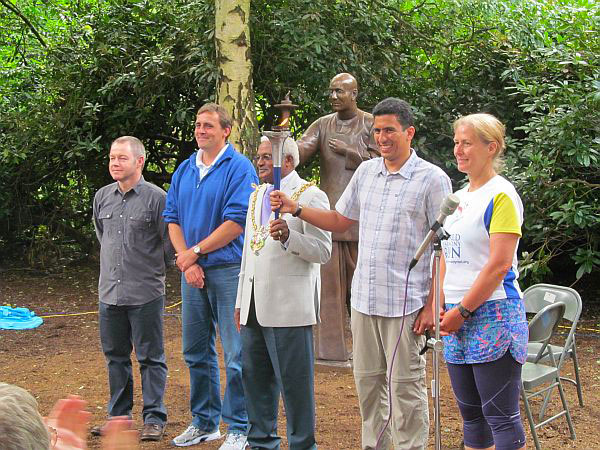 The swim course, courtesy CS&PF: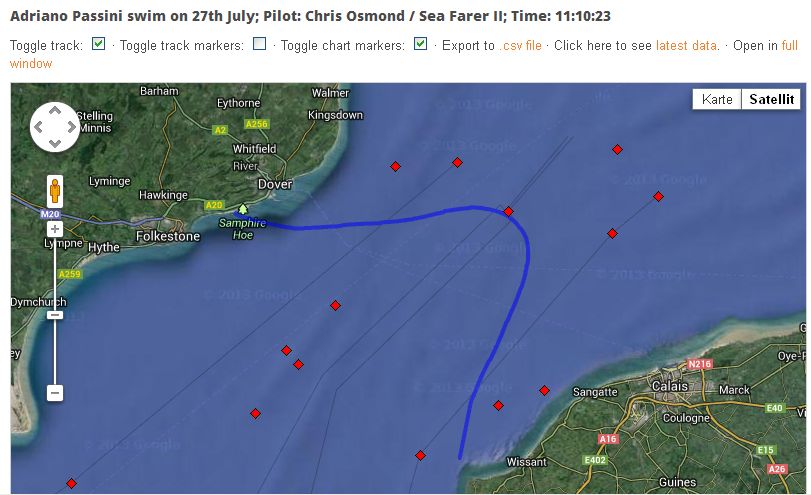 One of Adriano`s favourite mantras or spiritual aphorisms for a positive, impossibility-challenging attitude, which he used in preparation as well as during his swim, is by his spiritual teacher Sri Chinmoy (IMSHOF honouree 2012!):
"We are all truly unlimited,
If we only dare to try
And have faith."
– Sri Chinmoy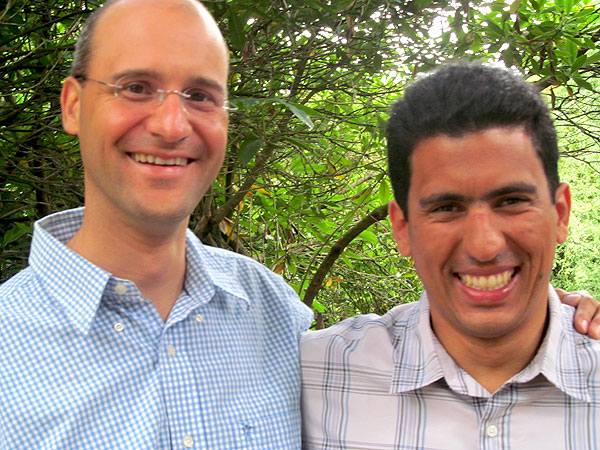 Mission accomplished!
"The message of self-transcendence
Is itself satisfaction,
Far beyond our imagination." – Sri Chinmoy

"Self-transcendence-joy
Unmistakably knows
No equal." – Sri Chinmoy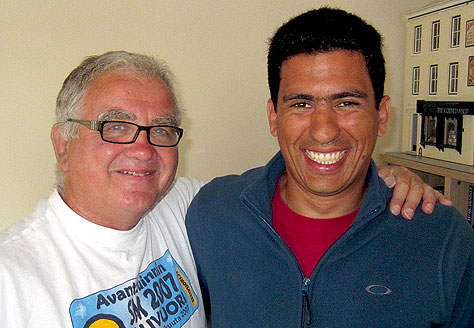 We also paid a nice visit to Kevin Murhpy,  "King of the Channel" (34 solo crossings) and secretary of the CS&PF. He has so many amazing stories, he could fill a number of books! Never heard his story before how he got lost on the African coast when swimming the Strait of Gibraltar!