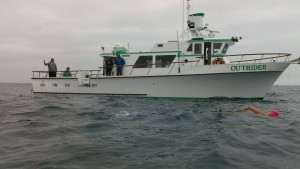 On August 18, 2015, after 9 hours 46 min. of swimming from Catalina Island to California mainland mostly through the night, Abhejali Bernadova (age 39) from Zlin became the first member of our international Sri Chinmoy Marathon Team and the first Czech person overall to achieve the "Triple Crown of Open Water Swimming", having swum Catalina Channel (2015), English Channel (2011) and Manhattan Island (2012). Having  crossed the Strait of Gibraltar in 2013, she also has 3 of the "Oceans Seven" swims in her pocket now. (Oceans Seven Wikipedia)
The swim was very nice, she said, with calm waters, lots of bioluminescence and even dolphins (and no shark encounters). More details to follow soon.
It may be interesting to note that Abhejali – like many of our team members – has been a vegetarian for over 20 years now and feels that her regular meditation practice not only helps in her training by increasing focus and aiding regeneration, but also keeps the "monkey mind" at bay during the swim, allowing her to experience the peace and beauty of open water swimming even more.
When she is not swimming or training for a long swim, you can see her running with the Peace Torch in various parts of the world or doing triathlons or multiday races like the 10 day race in New York.