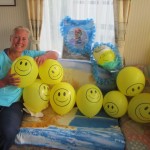 Update Wed. Sept.9th – our Channel anniversary:
No swims today and maybe even the next and last days of the tide. Swimming in the harbour this morning was great – finally some waves and a real Channel feeling! The sun is out and the water glittering and warmer again. If Friday is also no swim, then I will get two long training swims in on the weekend and go back Sunday night. And see if there is still a chance to try on the last tide of September – when Karteek will also be down here.
Update Sept 10th: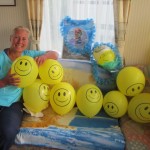 White horses in the harbour and out in the Channel (waves with white caps, windforce 4 or more), sun is out, a bit misty. Great for training in the harbour with a real Channel feeling.
Met my boat pilot Eddie on the boat in the marina – Sunday looks like a short swimmable window, but he has a relay booked for this first spring tide spot. Before and after: "crap". But a high pressure zone is lurking in the southwest, hopefully making its way up for the next neap tide. So my helpers are going back today and Friday, myself Sunday night, after a few more training swims.
Celebrating our 30 years anniversary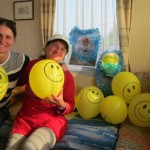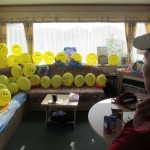 Yesterday Sananda and Sumeru gave me a nice surprise with 30 smiley balloons they had brought from home and a cake with 30 candles to celebrate our Sri Chinmoy Marathon Team`s 30th English Channel Swimming anniversary. As all of them, including Sarita, had been helpers or swimmers in the EC before, so it was a nice team celebration. And we were thinking of all our many team swimmers and helpers around the world who have been involved during these 30 years, challenging their own inner and outer capacities!